Award Winning Cool-Sleep Essentials For 2022
October 13, 2022
by Care Team Staff
SIJO's AiryWeight Bedding Collection is a bestseller (and has sold out multiple times!) for a reason. 
Nominated Best Bedding of the Year by several publications including Architectural Digest, GQ, Sleep Foundation, Oprah Daily and Refinery29, AiryWeight bedding by SIJO is truly a must have! What is it that makes this bedding so special? 
Cooler temperatures contribute to better sleep.
Any sleep expert will tell you that a dark, cool environment leads to better quality sleep. The lightweight fabric, cool-to-the-touch feeling and smooth texture make it breathable enough for warm temperatures or hot sleepers, but it still has a coziness perfect for year-round weather. The AiryWeight collection also boasts a comforter, perfect for that comfy weighted feel that is key for winter (but without the night sweats)! 
SIJO customers, top publishers and friends of the brand have attested to the deeper, healthier sleep they've gotten from these sheets and duvet covers. Not only that, but they've found improvements to their overall health. The benefits of great sleep are endless!
Editor's Note: SIJO is offering 15% off on your first order with code SHOPSIJO! Exclusions + restrictions apply.
Don't Just Take It From Us - SIJO Customers Share the Love
Customers have left thousands of glowing reviews on this bedding:
"I have been sleeping better as my body temperature stays even and perfectly comfortable! It is soft like a dream. I also have allergies and asthma and I am breathing better at night with this wrapped around me. Buy it, you won't regret it - you will love it!"
"It's SO SOFT and snuggly, and weighted just right. I'm pretty confident that I have the most comfortable bed of anyone that I know-- and by a pretty wide margin too."
SIJO Says, "Yes!" to High Tech Materials
Starting from Eucalyptus wood pulp, this bedding already transcends traditional, high water use fabrics. Crafted carefully from TENCEL™ Lyocell, dyed with plant based dyes, and Oeko-Tex 100 certified, AiryWeight far surpasses other brands and fabrics. 
But creating luxurious, cooling bedding in a trending fabric wasn't enough for the SIJO team. A high-tech component with health benefits was an important inclusion. The team uses silver ion technology to create bedding that is antibacterial and antimicrobial. 
This is a gift for the health conscious. The antimicrobial properties reduce potential dust mites, and also protect the skin against bacteria that may cause issues like acne or inflame other skin-related ailments. 
And for those who prefer to extend time between washes, this technology does reduce odor as well, meaning you can stretch the time between washes if you prefer.
Here's how SIJO compares to others
Expert Approved for Healthy Sleep
Take it from the experts; this bedding is the healthier choice for a better night's sleep. SIJO's AiryWeight bedding holds the Allergy Standards Certification from the Asthma and Allergy Foundation of America. To achieve this, the bedding was tested independently via 46 tests to ensure its safety, hypoallergenic properties and more. 
Bedding can often trap dust, dust mites, particles from the air, dead skin cells, and more generally unpleasant particles. Beyond that, many plant based or synthetic materials can contain a vast amount of allergens. With this certification, you can find both comfort and peace of mind knowing that the bedding is allergy safe, hypoallergenic, and free from any nasty particles that can irritate people suffering from asthma.
Rest well knowing that AiryWeight has so many healthy benefits!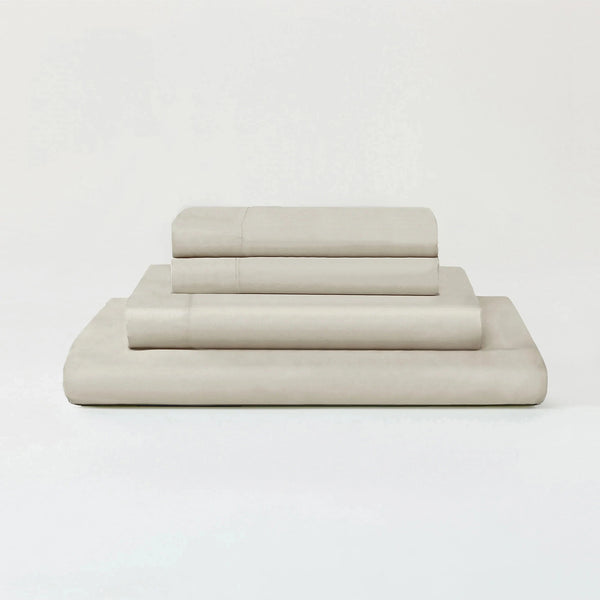 10% Off Sale
Best Sellers
From

Regular Price

$130

Sale Price

$117
Supreme softness and incomparable natural coolness. When it comes to staying cool, sleek, and light, our eucalyptus sheets are king.

Includes: 1 fitted sheet, 2 pillowcases (1 pillowcase for twin and twin XL sets), 1 optional flat/top sheet
Does that mean it's hard to care for? No!
With the silver ion tech, luxurious shine, and allergy friendly fabric, it might seem like this could be high maintenance bedding. Not at all! Washing this bedding is a breeze. Simply wash on a cool water setting with a gentle detergent, tumble dry on low, and get ready for even more nights of relaxing, cooling sleep. 
Cleaning the comforter is a snap, too! Drop it off at your local dry cleaner and pick it up freshly laundered and ready to sleep on.
Use code SHOPSIJO! for 15% off at sijohome.com
So Many Best Selling Colors
AiryWeight sheets and duvet covers come in seven stylish colors. Whether you're searching for something neutral or a pop of color, you'll find it with this luxe, cooling bedding. 
The ever-popular white shade, Snow, has sold out multiple times and has seen a lengthy waitlist. The ultra rich, deep green shade, Forest, is also a top seller due to it's sheen and ability to look chic in any style of decor. 
Soft-champagne Fog and sleek Dove gray round out their top selling colors, adding a stylish touch to any bedroom.
Are you ready for better sleep? See why this bedding has sold out so many times for yourself! 
Shop SIJO's AiryWeight sheets, duvet covers, and comforters exclusively on sijohome.com and get 15% off your next order. Plus, save extra 10% when you bundle up.